Only courses currently presented in English will be announced on this English version of the website. For the courses in Dutch, check the SHF activities calendar on the Dutch version of this website. A complete overview of courses in English is available in the COURSE OVERVIEW.

International Symposium Diving Medicine, Scott Haldane 40 years
21 January 2017
Available seats
: 100
Scott Haldane Foundation Lustrum Symposium



In 2016-2017 we celebrate the 40th anniversary of the Scott Haldane Foundation.

Initially a purely local initiative, Scott Haldane International has now become one of the world's leading institutions in the field of Diving Medicine Education. We obviously cannot let this moment pass unnoticed, therefore, we thought it appropriate to organize a "celebratory" International Symposium on Diving Medicine.

This event will take place in January 2017, more precisely on Saturday, January 21st. The location will be Eindhoven in the southern part of the Netherlands, with its own international airport,close to the Belgium border. The intended audience is composed of Dutch, Belgian and all other certified diving medicine physicians, but also, and probably in greater number, physicians without specific diving medicine education (yet) but a keen interest in diving medicine. Because we know there is an interest, we will also allow and encourage seasoned divers and dive instructors to attend. The official Symposium language will be English.
Information
Venue: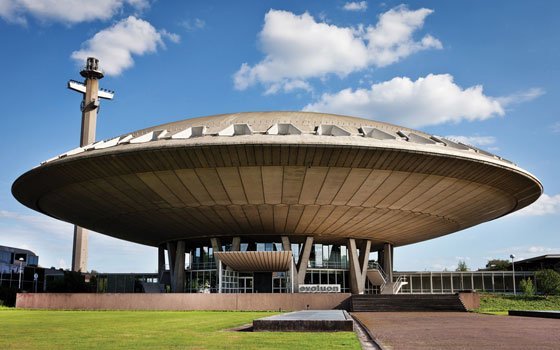 Evoluon, Eindhoven, The Netherlands
The Evoluon's distinctive design resembles a UFO that has landed in the middle of Eindhoven. The building was based on an original idea by Frits Philip. The unusual design meant many calculations were needed to make sure the 77-meter concrete dome was properly supported. Concentric rings line the dome like circular balconies and are now used for events.
Address:Noord Brabantlaan 1A, 5652 LA Eindhoven
• Close to the A2 highway
• Train station at 7 minuten
• Bus stop 'Evoluon' in front of the maion entrance
• Eindhoven International Airport only 5 minutes by car/taxi
Target audience:
This symposium is open to diving medicine physicians, all other medical doctors, diving instructors and divers
Date:
January 21st, 2017
Accreditation:
Medical Examiner of Divers and Diving Medicine Physicians 4,5 hours. Dutch Medical specialists 4 hours. For Belgium medical doctors been applied for at RIZIV.
Costs:
The costs for the symposium, welcome drink, scientific programme, lunch and tea break and after party will be €75,-.
Payment through "local" European banktransfer to
Scott Haldane Foundation bank account:NL23INGB0001911767. Swift/BIC: INGBNL2A. Description: SHF40
Scroll